Utah senator claims his homophobic rant - recorded by the creators of "8: The Mormon Proposition" - was induced by BYU insignia:
8:TMP's
Sundance debut was apparently
a huge success
, with lots of
favorable local coverage
:
Plenty of folks showed up for both Sundance
and
the kick-off of the Utah State Legislature's
2010 General Session
:
Of course, no trip to Utah would be complete without locking horns with last year's star of
Buttarspalooza
, who is now claiming the makers of
8: The Mormon Proposition
tricked him by wearing BYU T-shirts
to last year's interview that launched the documentary film:
Gotta love how the LDS church issues a statement calling for
truthfulness
and Mormon senator Chris Buttars responds by
lying
about the film crew who caught him on tape!
Soon after a local Utah blogger produced
PROOF
of Buttars' mendacity, the film's director, Reed Cowan,
called on the prevaricating Utah state senator to RESIGN.
Good times!
Video Tags:
8TMP, 8:TMP, 8: The Mormon Proposition, Brandie Balken, Bruce Bastian, Buttarspalooza, Chris Buttars, Church of Jesus Christ of Latter-day Saints, Dustin Lance Black, Equality Utah, Eric Ethington, LDS, LGBT, Mormon, Mormons, Matthew Lyon, Pride in Utah, Reed Cowan, Steven Greenstreet, Sundance, Troy Williams, Utah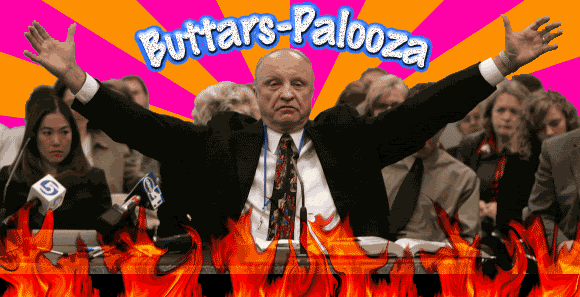 Here's where I start dropping random links as the story develops:
One Utah:
The very special cowardice of Chris Buttars
KUTV (latest Utah TV news report):
Filmmaker Calls For Buttars Resignation; Says He Lied
SL Trib blog:
More fallout from "8": Utah State Sen. Chris Buttars doesn't know when to keep his mouth shut.
Oh, and by the way, just in case you failed to notice, we're currently voting on X-Mormon of the Year
HERE
. My own personal favorites (and it's an honest toss-up, folks) include:
Dustin Lance Black
,
Reed Cowan
and
Christine Johnson
. Whoever you vote for, pls take advantage of the opportunity to finally
vote on the Mormons
!