Big Love = Big Traffic
As many of you know, I manage the media efforts for the Mormon Church, including Internet marketing. When we became aware of this series, it was recognized as an opportunity for us to tell the truth about Mormonism and Temples. Immediately I started a sponsored search campaign on YouTube, which sent visitors to our MormonTV channel ...
Did anyone else notice
the below
Mormon-sponsored ad
after a YouTube search for "Big Love" and "Temple"?
In context: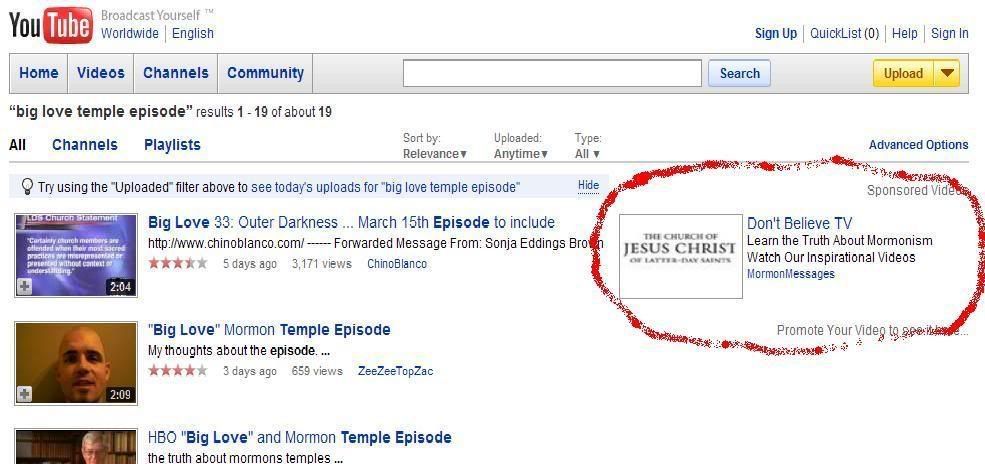 Which leads me to suspect that the earlier
LDS Newsroom release
was not about addressing the
dilemma
of publicity, but rather the opening salvo of an online
campaign
to draw even more attention to the church.
EXHIBIT A)
Prop 8:
The Social Media-savvy Side of a (Mormon) Campaign to Protect Marriage
EXHIBIT B)
Big Love:
LDS Media Talk: Response to the Why Mormons Build Temples Video
OBJECTION)
Bill Paxton:
Big Love
is
not
TV:
REBUTTAL)
Tom Hanks:
No, it's definitely TV:
CLOSING ARGUMENT)
Me:
This is getting ridiculous.
You're
all
TV, got it?
And that includes all you
churches
that are spending your followers' dollars to ask
me
to watch your
videos
.
So, I agree with your calling it
MormonTV:
http://www.youtube.com/MormonTV
...
But I thought your ad told me not to believe TV?
Q.E.D.
And those who might disagree are always welcome to drop in (as they apparently already have):

But as long as you're
dropping in
, why not leave a comment?