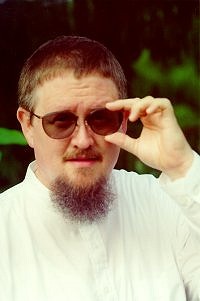 Deseret News reports that Utah Valley University President Matthew Holland has been replaced on NOM's board by author and Mormon Times columnist Orson Scott Card.

So, let's meet NOM's newest board member:
"How long before married people answer the dictators thus: Regardless of law, marriage has only one definition, and any government that attempts to change it is my mortal enemy. I will act to destroy that government and bring it down, so it can be replaced with a government that will respect and support marriage, and help me raise my children in a society where they will expect to marry in their turn."
Thanks, NOM. You've just given me a great idea. Starting now, and for as long as Orson Scott Card sits on your board, we'll be posting a fresh OSC quote here every day. Today's entry will be filed under the title A Planet Called Treason

Oh, and all you Dutch, Belgian, Spanish, Swedish, South African, Norwegian, and Canadian dictators, mark Orson's words, you will be replaced!
Update: This post has now been superseded by the following (identical)
"WTF, Orson?"
entries:
here
,
here
,
here
,
here
, and
here
.