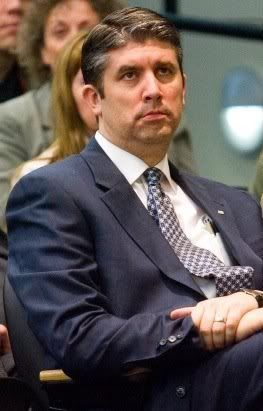 Matthew Scott Holland,
son of Mormon apostle
Jeffrey R. Holland,
has stepped down
from the board of the
National Organization for Marriage (NOM).

NOM quietly dropped Holland's name
from its list of directors.

Last November, NOM created an online petition
in a show of support for the Mormon church
in the aftermath of Prop 8's passage.

NOM's petition was widely touted
by a Mormon media that invariably
failed to mention Holland's involvement
in the anti-gay organization.

The timing of Holland's departure might
suggest displeasure among the LDS leadership
with NOM's recent and much reported meltdown.
However, sources inside the COB are reporting that the decision to dump NOM was Matthew Holland's alone and was made on April 13 after he'd read that day's LDS Newsroom press release titled "Mormon Apostle's Easter Message Becomes Top Internet Video":
"A short Easter video from The Church of Jesus Christ of Latter-day Saints quickly spread over the weekend to become the top "viral" video on the Internet ... The four-and-a-half-minute video was extracted from an address delivered by Elder Jeffrey R. Holland ...

The video was placed Friday evening on LDS.org ... and simultaneously linked to the "Mormon Messages" channel on YouTube ... Traffic began to build immediately. Mormons spontaneously posted the YouTube video on Facebook, discussed it on Twitter and sent it by e-mail to thousands of others, including their friends. By Saturday, the number of views passed 100,000 and kept climbing ... On Monday morning, views had reached close to a quarter million and reached the top of the Viral Video Chart."
As far as the younger Holland was concerned, the YouTube stats were simply the latest retelling of his life's story:

DAD: "An Apostle's Easter Thoughts on Christ" - 441,530 views, 4.5 stars, 434 fawning comments

JUNIOR: "Gathering Storm" - 478,140 views, 1 star, 8,700 mocking comments

As he picked up the phone, he felt sorry for Maggie. With 43 out of office, she needed Mormon funding now more than ever. But, then again, it wasn't his fault she'd hired zombies to write and act in that confounded ad. And there it was again, the strange thought that someone was tapping out his inner dialogue on a keyboard somewhere. Then it was gone and he made the call.
UPDATE: Holland's replacement? ORSON SCOTT CARD !!
Behold NOM's newest board member:
How long before married people answer the dictators thus: Regardless of law, marriage has only one definition, and any government that attempts to change it is my mortal enemy. I will act to destroy that government and bring it down, so it can be replaced with a government that will respect and support marriage, and help me raise my children in a society where they will expect to marry in their turn.
Source.
I'm looking forward to practicing my stenography and letting OSC write my next three posts for me.
Thank you, thank you, thank you, NOM.