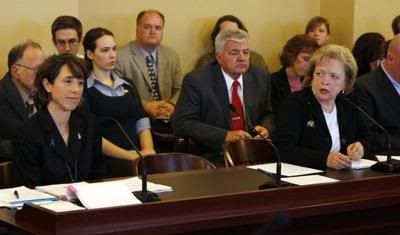 Read Gayle's
frantic email
to her flock. Kudos,
Gayle
, it worked:
Associated Press - February 17, 2009 7:05 PM ET



SALT LAKE CITY (AP) - Businesses in Utah will continue to be allowed to fire someone for being gay.

A House committee voted down a bill 5-8 Tuesday that would have made discriminating against someone in the workplace based on sexual orientation or gender identity illegal.

House Bill 267 also would have made it illegal for landlords to discriminate against gay and transgender people.

The bill was part of a package of bills called the Common Ground Initiative being promoted by the gay rights group Equality Utah that Gov. Jon Huntsman supports.

This is the second bill in the initiative that has died in a committee.



Copyright 2009 The Associated Press.
Gayle Ruzicka and Karen Merkley persuade Utah legislature to block another Common Ground bill:
Next door, LaVar Christensen and Stan Rasmussen persuade Utah to block child adoption by unmarried couples:
And a worthy round-up:
Not to be outdone, Chris Buttars
weighs in
(audio):
Head over to
Eric's place
to find Buttars'
mendacious response
to the release of this audio clip.
Getting back to Gayle, here's something that I found interesting:
the list
of members of the '
Utah Coalition for Traditional Families
' that lined up against fairness and equality this time around (this is
their
list, not mine):
Citizens for Principled Government
Sutherland Institute
Pacific Justice Institute
Marriage Law Foundation
Utah Eagle Forum
Utah Federation of Republican Women
Utah County Republican Women
United Women's Forum
United Families Utah
Citizens for Families
Latter-day Patriot Foundation
Citizens for Strong Families
Family First Foundation
Lifeline Community Church
World Class Education
Standard of Liberty
CEAG
Constitutional Defense of Marriage Alliance
Utah Republican Coalition for Life
Utah Families
America Forever
Principled Liberty Foundation
LifeLines Family Services Inc
Kimber Academy
Citizens for Tax Fairness
Defend Utah Values PAC
Citizens for Better Education
Utah Republican Assembly
The Home Feeling
Amazing. Hate group
America Forever
is included on their list.
Apparently, the only thing you're allowed to flaunt in Utah is the law.
America Forever
broke Utah law with their
recent ad
that ran in the Utah papers seeking donations.
They broke the law. That's indisputable. We are all witnesses to the crime.
Rolly from the SL Trib
:
When State Commerce Department Director Francine Giani was asked by

The Salt Lake Tribune

this week if she would do anything about the anti-gay group America Forever for spending and soliciting money even though its registration as a nonprofit had lapsed, she said she didn't want to ding the group, but would send it a "cordial" letter.
Good grief. You break the law in Utah, and the only consequence is a friendly note from the folks who are paid to enforce the rules?
How many people have to notice before Dept. of Commerce Dir.
Francine Giani
decides to do her job? Does she even know what her job is?
Complaints: fgiani@utah.gov
Utah's Fox13 reports and confirms that Chris Buttars is a liar: