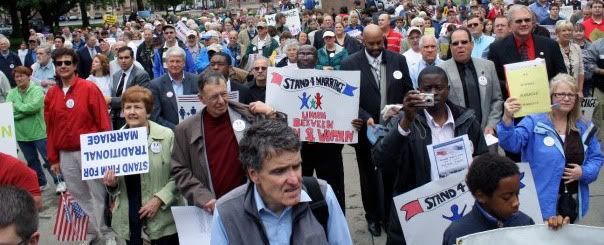 Stand for Marriage Rally
East Steps, Capitol (Albany, NY)
Tuesday, June 9, 2009
A broad coalition of concerned citizens
A bunch of cranks from all across New York State descended upon the East Steps of the Capitol to participate in a "Stand for Marriage" rally organized by
New Yorkers for Constitutional Freedoms
.
Participants at Tuesday's rally encouraged state senators to vote "no" on same-sex marriage legislation.
The rally began at 10:30 AM and featured speakers:
• New York State Senator Reverend Ruben Diaz (D – Bronx)
• Mr. Michael Long, Chairman, New York State Conservative Party
• Tony Perkins, President, Family Research Council
• Bishop Harry Jackson, Jr., Executive Director, High Impact Leadership Coalition
• Maggie Gallagher, President, National Organization for Marriage
• Bishop Joseph Mattera, Presiding Bishop of Christ Covenant Coalition
• Rev. George Grace, Senior Pastor, First Bible Baptist Church, Rochester
• Rev. Duane Motley, Executive Director, New Yorkers for Constitutional Freedoms
• Other pro-family leaders and state legislators
It was HUGE!!! Take a look:
A huge flop.
The
bigot brigade
is claiming 2,000 turned out.
It was
hundreds
.
Not to mention that Maggie/NOM and Tony/FRC had both issued PR's announcing a press conference to be held after the rally, and then ... nada, crickets, nothing more than the brief snippet of Duane Motley speaking that ran on a single local newscast. Pathetic.
Be sure to check out this worthy report from
Blabbeando
.
Learn how you can support the effort to achieve marriage equality in New York at
MarriageNY.com
.
Further resources at Empire State Pride Agenda's
marriage site
.