According to the latest from NOM's
Maggie Gallagher
: " ... there is
no
connection between NOM and the [LDS] church except that
a Mormon
serves on NOM's board."
In that
same article
, Kim Farah, spokeswoman for the LDS church in Salt Lake City, insists that the church "did not establish the National Organization for Marriage ... [but fails to] respond to a question about whether the Mormon church has been active in the campaigns to defeat gay marriage in New England and New York."
This Kim Farah:
Whatever, Kim.
I look forward to perusing the IRS filings of any of the below NOM iterations as soon as they become available:
National Organization for Marriage, Inc. (EIN: 26-0240498)
a 501(c)(4) formed January 2008
c/o Neil Corkery
9502 Nelson Ln
Manassas, VA 20110-4310
National Organization for Marriage Education Fund (EIN: 20-7472471)
a 501(c)(3) formed July 2008
c/o Neil Corkery
9502 Nelson Ln
Manassas, VA 20110-4310
National Organization for Marriage California PAC (EIN: 26-4205819)
a 501(c)(4) formed February 2009
c/o David Bauer
2150 River Plaza Dr Ste 150
Sacramento, CA 95833-4131
National Organization for Marriage PAC New York (EIN: 27-0394565)
a 501(c)(4) formed June 2009
c/o Brian S. Brown
20 Nassau Street Suite 242
Princeton, NJ 08542
In the meantime, some beyond-the-boardroom LDS-NOM connections for our readers' consideration.
Because that's all I've got. Because tracking down NOM's board and officers has become an exercise in futility. All apologies, I wish I had more, but
friends
have taken the time to actually visit the NOM office in New Jersey, and here's what they found: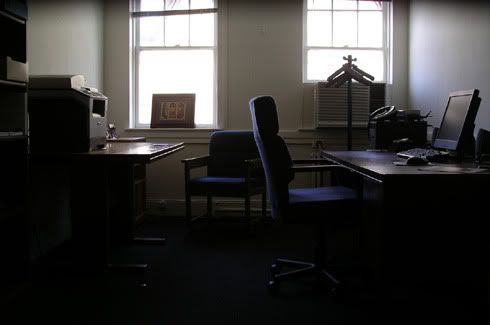 Crickets. Ghosts. Iconography:
So, moving on from what stubbornly remains unknowable, here's what we do know:
Nanci Wudel
Fave line from Nanci's winning essay: "We openly cried to be back home where we knew what freedom meant - the right to live as responsible citizens who cared as much about others' freedoms as our own."

---
Carol Soelberg
Carol qualifies Nanci's take on freedom: "Every aspect of life and freedom as we know it will be diluted by the liberal agenda of the homosexual movement."

---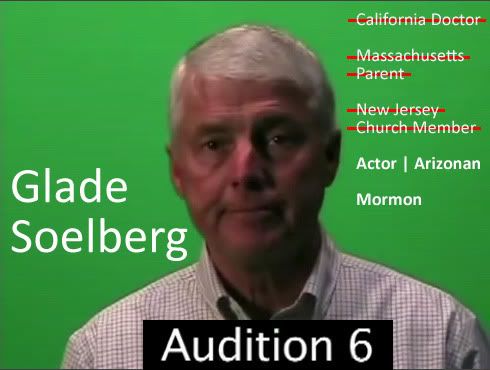 Glade Soelberg
Glade's son weighs in: "My dad very rarely ever raised his voice, and knowing how my mom confided in me and trusted me, I always made the right decisions so as not to disappoint her." -- Alan Soelberg talking about Mom and Dad.

---
Gilberto Laparra
"The [Mesa] pageant is about Jesus Christ and His love for us, which is very comforting to feel."

---

Dee Dee Abaroa
Dee Dee opines: "Loving leadership is a concept slipping through our young society's fingers. The idea of democracy is being tested by candidates who are socialistic in a democratic bodysuit.

The hidden agendas that our candidates are pushing ever so nonchalantly and deceitfully are the exact contradiction to what we are as a country.

We profess to be the little brother of goodness and mercy for our global neighbors yet our own walls are beginning to lose strength in integrity and honesty.

Do the history! A country fallen always falls from within.

The political battlefield has already been a nasty showing of our own domestic differences. We're not talking a differentiation in just basic partisan platform issues.

We're talking about differences in national structural stances such as same-sex marital rights, socialistic medicine for all and nationalization of the oil industry."

---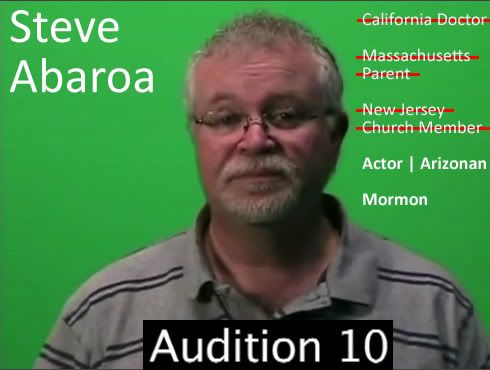 Steve Abaroa
Former pupil: "Apparently [Steve] is now the drama teacher at Highland. What a fabulous position!"

---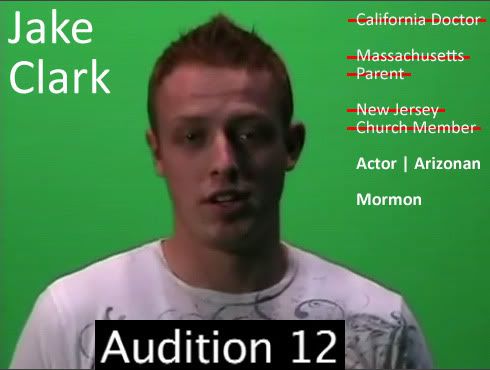 Jake Clark
---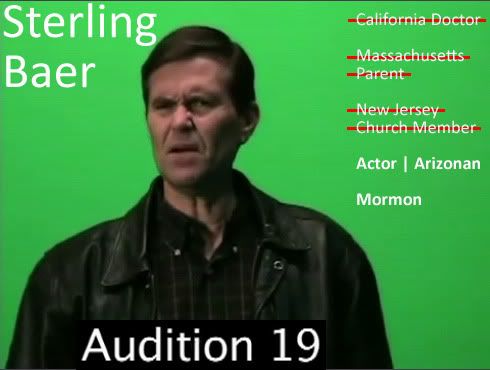 Sterling Baer
---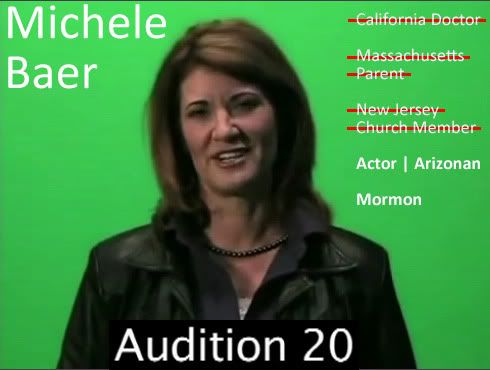 Michele Baer
Michele explains Prop 102.

---
In case anyone's forgotten these faces, here's the ad:
And here are the audition reels:
Auditions 1-12
:
Auditions 13-23
:
Once again, NOM's Maggie Gallagher:
" ... there is no connection between NOM and the [LDS] church except that a Mormon serves on NOM's board."
Will You Take a Lie Detector Test, Maggie Gallagher?
And for those still reading after all this, here's a bonus clip just for you:
Clearing Time: Fighting a Mormon Gulag (Trailer)
:
Confused? It's the sequel to:
Trapped in a Mormon Gulag
.
And here's the rub as far as I'm concerned: Since
Mormon Gulag
went live, there's been an outpouring of support from the LDS community in terms of stepping up and identifying the culprits behind the unrighteous sequestration that is the
Utah Boys Ranch
, but not so much as a peep from those Arizona Mormons who must've seen the NOM audition reels and recognized their wingnut homophobe neighbors ... what's up with that?
Have you been cowed into submission/silence simply by dint of your co-religionists having access to a camera and a production crew? If so, you've got it
bass ackwards
... In the words of Spiderman's Uncle Ben: "With great power comes great responsibility."
And accountability.
Or does it?
Or does parroting NOM's anti-gay lies in front of a camera somehow make it all beyond reproach?
UPDATE:
Well, another righteous Arizona Mormon ally has stepped up and helped us identify LDS actor #10:
Brent Slade
.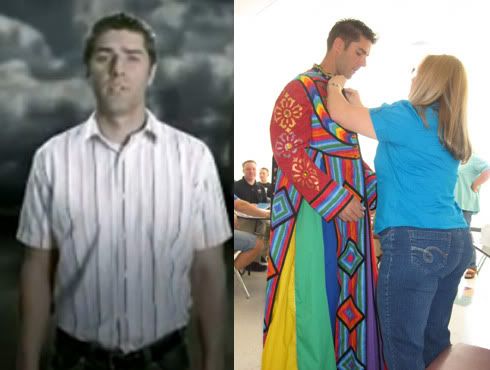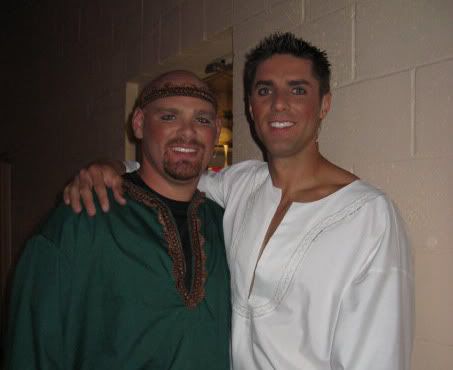 Stay tuned, there's more to come ...